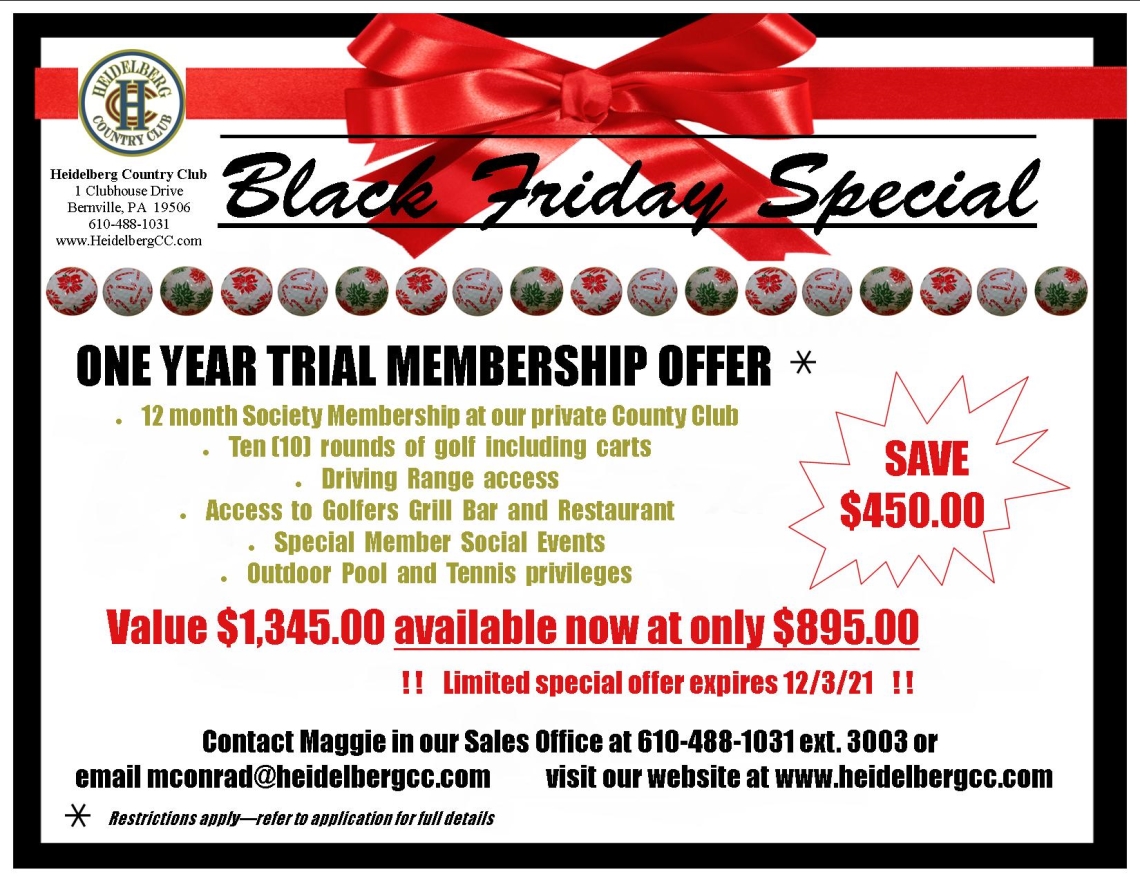 2022 TRIAL MEMBERSHIP DETAILS
An application must be completed in its entirety, signed by the applicant and be accompanied by the applicable dues payment before formal approval can be given by Heidelberg Country Club ("Club") to activate your 2022 Trial Membership privileges.

Membership is not an investment in the Club nor does it provide any equity or ownership interest in the Club or any of the club facilities. The club reserves the right at its sole and absolute discretion to restrict access to the club and its facility as it sees fit, or to otherwise reserve the Club facilities for maintenance, tournament play, special events or other uses as it may deem appropriate. Membership in the Club is subject to suspension and revocation for failure to abide by the Clubs rules and regulation as now in effect or as hereafter amended. The club reserves the right to suspend or revoke membership privileges for behavior or actions deemed inappropriate. Privileges and restrictions applicable to the various classes of membership are specifically defined in the membership handbook and may be updated from time to time as the club see fit.

This special Trial Membership classification is not renewable for the following year.
This classification is not available to current season HCC Members, nor is it available to previous HCC members that have resigned their membership. All plans and privileges apply only to the individual in whose name the membership is issued and is non-transferable. Any transfer without prior club approval will result in revocation of membership.
This special Trial Membership affords you one (1) full year Society Membership privileges and includes unlimited, in-season access, (weather and availability dependent) to the use of our three outdoor swimming pools, two outdoor tennis courts, Golfers Grill restaurant, monthly social mixers, locker rooms with sauna. This membership also entitles the member to ten (10) 18-hole rounds of golf (carts included). There are no initiation fee(s), or monthly food minimum requirements associated with this membership. All included golf rounds and society membership privileges are annual in term and based on the calendar year. Any unused rounds or membership privileges are non refundable, regardless of ability to utilize the facility. Members may choose to invite guests to accompany them in the restaurant, pool area, and golf course by paying the applicable guest fees rates at that time. Repeat visits for GUESTS on the golf course, is limited to 6 rounds per year. A house account secured with a credit card will be established in your name for charges related to your food, beverage, golf, and merchandise purchases. All charges during the life of your membership will be billed the first week of the month, and is payable by the 25th of the month. Any unpaid balance shall carry a monthly interest rate of 1 ½ percent per month, not to exceed 18% per annum. Delinquent club account balances that go past 30 days, will automatically be charged to the credit card on file. Should the Club have to take any action to collect any monies due from the member, the Club shall be entitled to all costs associated with the collection, including attorney's fees and interest from the date the monies are first due. All disputes related to this agreement shall be heard within the Pennsylvania legal system.
Membership Limitations policies are as follows
* Certain Club tournaments are reserved for our full golf members. Some tournaments will not be available to this classification such as exclusive HCC Mens / Womens Golf Association tournaments. (examples: Member/Member, Jr/Sr Tournament, Mixed Championship, Club Championship, Senior Championship, or the Parent Child Tournament.)
* This membership classification will not have access to the HCC Interclub Play Program circle of clubs.
* There is a limit of 10 rounds of golf per season in this Membership category. If further rounds are necessary, requests will be handled on a case by case basis through the Sales Office.
This limited membership opportunity is
open for enrollment until Friday 12/3/21.
To get started, click here for the application,
then contact Maggie in our Sales Office at 610-488-1031 extension 3003,
or email mconrad@heidelbergcc.com